GLASS NANOTECHNOLOGICAL TREATMENT KIT - building 50 ml
Regular price
€115,00 EUR
Regular price
Sale price
€115,00 EUR
Unit price
per
Sale
Sold out
PROFESSIONAL KIT FOR NANOTECHNOLOGICAL PROTECTIVE GLASS TREATMENT
WHAT DOES THE NANOTECHNOLOGICAL TREATMENT OF GLASS WITH THE NANOITEK PROFESSIONAL PROTECTIVE NANOTECHNOLOGICAL KIT?
- Glass always clean and shiny
- Total repellence of dirt, contaminants and pollutants
- Drastic reduction of cleaning cycles, times and costs by up to 75%
- Goodbye to stains, halos and fingerprints
- Exceptional protection over the years (up to 20 years)
- Extremely easy to apply, you do it once and you don't think more!
- WHY CHOOSE OUR PROFESSIONAL KIT?
The kit professional for the protective nanotechnological treatment for glass is the best choice for those who want a EASY , EFFECTIVE application < / strong> , PERFORMING and LASTING (years). In fact, the excellent quality of the company's development and production products < strong> Made-in-Italy, are synonymous with ease of application and performance even for those with no experience. p>
- PROTECTIVE NANOTECHNOLOGICAL TREATMENT:
The nanotechnological treatment for glass is an innovative formulation developed to give the glass surfaces a TOTAL PROTECTION IDRO & amp; OLEOPHOBIC: the water will slide in a spherical shape on the glass without wetting it or contaminating it ( see videos 2 and 3 in the product gallery ) and the main ones contaminants such as: DIRTY , SALT, LIME, DETERGENTS, GREASE, DUST, POLLUTANTS, CONTAMINANTS, strong> etc ... which will no longer be able to settle and compromise the transparency of the glass and its ease of cleaning. Furthermore, the degradation of the material will no longer be possible.
The costs and cycles of CLEANING will be extremely rare and very easy to perform. In a few moments, with a damp cloth, it will be possible to restore perfect transparency with an estimated saving of up to 75%.
- ADVANTAGES AND PERFORMANCE OF TREATMENT:
The barrier created prevents environmental contaminants (limestone, dust, dirt, smog, rain, saline, grease) from anchoring to the surface facilitating its removal and preserving the glass from corrosion

Significant reduction in maintenance time and costs

Long life (up to 20 years) for external glass, compliant with use and exposure and permanent for internal glass < / span>

Makes surfaces extremely resistant to abrasion

Unassailable by UV rays

The product does not create film

Does not require the use of aggressive chemical cleaners

At low temperatures, down to about -3C ° it prevents the formation of ice on the glass.
- WHERE THE NANOTECHNOLOGICAL TREATMENT CAN BE USED:
Its uses are manifold, glass placed in EXTERNAL, INTERNAL can be treated and diving . Perfect for windows, glazing, mirrors, shower glazing, dormer windows, parapets, floors, dividing glazing, etc., but also for the nautical and automotive sectors.
- KIT SUPPLIED:

The kit consists of: professional high-performance protective nanosolution specific for glass and mirrors 50ml (yield approx. 10 m2) , professional cleanser, POLISH , nonwoven, ultramicrofiber, mifrofibre cloths, application pad, gloves and instructions.
All this allows you to perform the necessary steps of the company's exclusive protective treatment such as: cleaning, decontamination, polishing, restoration of the material ( goodbye to stains and halos) for the perfect preparation of the material for the deposit of nano particles ensuring performance & amp; duration (decades) without equal.
- DURATION OF PROFESSIONAL TREATMENT:
The products and the company's exclusive application cycle allows for a durable treatment over time up to 20 years for external glass and permanent for internal glass. The durations depend on the quality of the glass preparation and application.
----
Share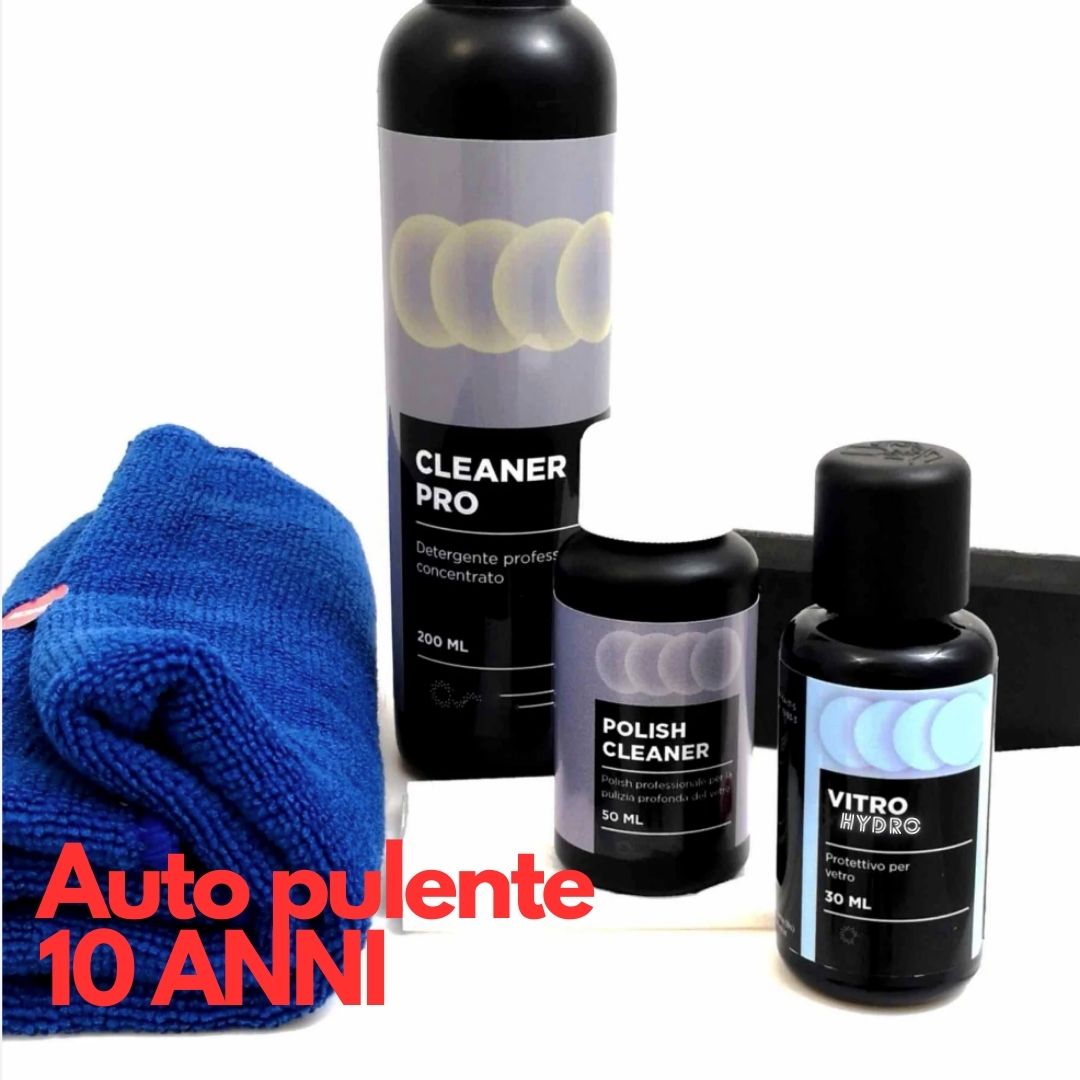 Perchè sceglierci:
Trattamento PROFESSIONALE

Qualità professionale dei protettivi di sviluppo e produzione Made-in-Italy sono sinonimo di FACILE  ed EFFICACE applicazione.

Assistenza Tecnica

Con l'acquIsto ricevere le istruzioni per una corretta applicazione oltre alla disponibilità del reparto tecnico per eventuali ed ulteriori informazioni e chiarimenti.

SPEDIZIONI CELERI

In base alla località di destinazione possono essere necessarie dalle 24 alle 48 ore. Per le isole si può arrivare in alcuni casi anche a 72 ore.

PAGAMENTI SICURI

Solo pagamenti sicuri con carte di credito, PayPall e bonifici per tutelare al meglio i vostri acquisti. Per chi necessita è possibile avere anche fattura iva esposta.
Scopri tutti i protettivi per il vetro
Regular price

€89,00 EUR

Sale price

€69,00 EUR

Unit price

per

Regular price

From €89,00 EUR

Regular price

Sale price

From €89,00 EUR

Unit price

per

Regular price

€115,00 EUR

Regular price

Sale price

€115,00 EUR

Unit price

per
Desideri maggiori informazioni? Scrivi ad un nostro tecnico: